A Gallup poll of more than 1 million employees confirmed that the number one reason people why people quit their jobs is a bad boss or immediate supervisor. This is a costly problem; costly in recruitment, sickness absence, employee engagement and, ultimately, productivity and the bottom line.
Back in 2008, Google carried out a research study called Project Oxygen to try and find out whether managers 'matter'. They ended up proving that good management does make a difference and identified eight behaviours that were common in their best performing managers. In 2018 they revisited their research, revised some of the behaviours and added two additional behaviours (no.9 and 10).
So, what can you and your organisation learn from these ten Project Oxygen behaviours?
1. Be a good coach
The number one quality a great manager should have according to the Google research is the ability to coach their team. According to Sir John Whitmore, the pioneer of coaching in the workplace, the definition of coaching is "unlocking a person's potential to maximize their own performance...helping them to learn rather than teaching them." Managers who find themselves fielding questions from their team members throughout the day often think that it is quicker to simply give them the answer. However, all that happens is that you get more questions the next day. Through coaching you can guide your team members and develop their ability to solve the issues themselves. Set clear and realistic goals, have regular reviews, ask open questions, challenge, encourage and support when necessary.
2. Empower your team and do not micromanage
Good managers also recognise the frustration that can come from 'micromanaging'. Where possible, decision making should be delegated throughout the organisation to the lowest possible level. Meaning that decisions are made by the person who is best placed to do so. Your team will inevitably be the ones who are closest to your customers, your processes and your products or services, which means they are usually the people with the right information to make the best decisions.
3. Create an inclusive team environment, showing concern for success and well-being
Another Google research project found that people in effective teams feel 'psychologically safe', meaning that they feel able to be creative, curious and speak their mind. By giving individual attention to team members, you can build trust, create an open and honest environment and develop strong working relationships. In these most challenging of times it is more important than ever to ensure that people's well-being remains a priority so make time for those one-to-one conversations, when you listen and approach their questions and concerns with understanding and empathy.
4. Be productive and results-oriented
Leading management author, Dave Ulrich argued that it is not enough to define effective leadership based solely on personal attributes and stressed that there needs to be a better balance between attributes and results.
Effective leadership = Attributes x Results
Set clear expectations and SMART goals, provide direction and support as needed, and give feedback regularly to ensure that your team members can achieve their objectives.
5. Be a good communicator — listen and share information
Think about what you say and how you say it. By developing active listening skills, listening carefully to your team and providing support and encouragement, you can help increase employee engagement. Provide timely and frequent information and explain why and how you are making decisions. As more and more people work remotely, make sure that they are aware of expectations, provide regular feedback and remember to recognise and acknowledge good performance – a thank you goes a long way.
6. Support career development and discuss performance
Another well-known leadership guru, Jack Welch believed that the number one focus of a leader should be developing their people.
"Before you are a leader, success is all about growing yourself. When you become a leader, success is all about growing others."
Setting challenging goals, encouraging learning and development, and providing opportunities for progression are essential skills for any manager. Have regular one-to-one discussions with your team members which will give you an opportunity to better understand their career aspirations and help them to identify development opportunities. Give regular and effective feedback on what they are doing well and where they need to improve and provide coaching to help them to achieve their objectives.
7. Have a clear vision/strategy for the team
Studies show that when people believe that their work matters, they are four times more likely to be engaged, are more motivated, and feel more connected to their organisation. So, when you are setting or delegating tasks/goals, don't just explain the 'what' and the 'how', share the 'why' and help them to understand how their objectives link to the overall company vision, goals and purpose.
8. Have key technical skills to help advise the team
Interestingly, whilst it is often your technical expertise which leads to your promotion to a management position, Google's original research in 2008 found that these same technical skills were the least important of the eight behaviours needed to be a good manager. Whilst you don't need to be able to do every job that your team are doing, you do need to have the ability to advise them when necessary.
9. Collaborate across the business
Working in 'silos' reduces communication, increases inefficiency and prevents the organisation from making the best use of its resources. By working collaboratively with individuals and teams across the business we can draw on other's ideas, skills and expertise. It can help us to see issues from different perspectives, it promotes a culture of continuous learning in the organisation and instils a greater sense of purpose and belonging as people work together towards a common goal.
10. Be a strong decision maker
As managers we are faced with making decisions on a daily basis. Being able to critically (meaning deliberately and consciously) think about an issue, evaluate the different options and then make a sound, informed decision within the necessary time frame is a crucial leadership skill.
Leaders owe it to every person in their organisation to support the development of their managers as leadership is a skill that can be learned with practise to hone and develop those skills.
If you would like to find out how we help our delegates to improve their leadership skills in order to develop themselves, their teams and their organisations, get in touch with Jo Draper or Stewart Barnes here. Applications are open for our next LEAD™ program for senior leaders in November.
Our next program for future leaders - middle managers and supervisors - is called LEADlight and will start in January 2023. It helps those managers below the Board and senior management team to develop their skills and awareness, improve their performance and that of their teams, and to prepare themselves for senior management responsibilities.
We'll leave you with a quote from one of our expert Masterclass speakers, Dr Frank Dick OBE, who said in his Masterclass for us on coaching elite sporting figures and the similarities with high performing businesses, "You don't have to be sick to get better."
Get in touch today to invest in the future.
To receive your free, downloadable summary of the qualities of an effective manager, please click on the image below.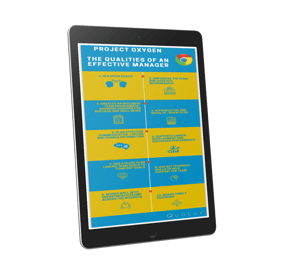 Keep up-to-date on the latest leadership and management tips by signing up to our weekly blog here