It's our 500th blog. And if we may, a moment to pause, take stock and look forward.
When we started QuoLux™ 10 years ago, we promised that we would regularly blog, sharing the thoughts and views of our Masterclass speakers from our leadership, strategy development and innovation programs, as well as our own observations on matters concerning businesspeople.
From all of us at QuoLux™, we would like to thank everyone who has read, commented and fed back to us on our various postings.
To mark this significant occasion we thought we'd share with you the key findings from our research over many years into the major challenge facing many of the leaders that we work with…
Organisational Development, Skill Development & Succession
This remains the largest issue facing business leaders, the one that never goes away. We regularly hear concerns of organisations not having the appropriate levels of cover should there be absences, a situation exacerbated by the challenges of Covid. Then there are worries over appropriate skills and skill development. These, together with the worldwide shortage of labour, result in much unease regarding succession planning.
So, with leaders saying that they need to look at developing their organisations and, more importantly, developing their people, then our 500th blog posting seemed to be the right time to share the news about our SkillBuild Framework which launches next month.
QuoLux™ SkillBuild Framework showing the 7 Skill Levels
We have identified 7 Skill Levels in any business ranging from junior / apprenticeships through skilled workers to first-line managers, managers and senior leaders. For every Skill Level we have created an extensive range of digital How-To guides, tools and techniques that will help a person to develop their leadership, management or teamwork skill to improve their personal and professional development. Every How-To is a skill that is linked to a Skill Step and sits within a Skills Matrix.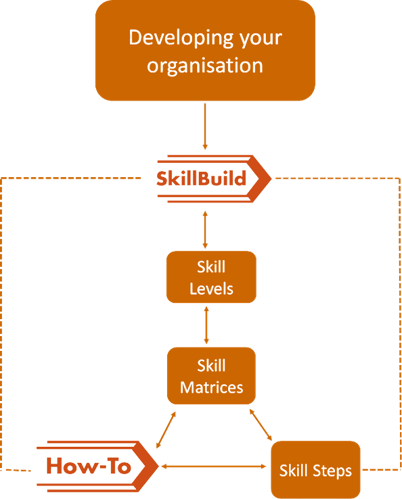 The How-To range is available on subscription so please contact us to find out how we can help you to SkillBuild, and access our range of How-To guides, tools and techniques to support the development of your people.
If you are interested in finding out more about developing your organisation to improve leadership and business performance, please get in touch with Jo Draper or Stewart Barnes.

Our next effective leadership and business strategy program for senior leaders (LEAD™) starts on 28th and 29th April.