Leadership is a concept that means different things to different people, at different times, in different situations. With such a variety of meaning, perhaps it's unsurprising that we suggest you don't waste time trying to define it.
But if you cannot define leadership then how can you practise it, especially amidst the complexity of the specific situation that you face?
One of the leading authorities on 'How leaders lead' is Professor Steve Kempster who is one of our Masterclass speakers on our LEAD™, GOLD™ and GAIN™ programs. Steve was also one of the original creators of LEAD™ at Lancaster University Management School.
Steve addresses the old thorny question of, "Are leaders born?" arguing that leadership can be learnt and owner-managers learn leadership in the cauldron of their business. The difficulty is that most business leaders spend too much time working in their business and do not have the time to step back, consider and reflect on what leadership means to them, to their business and therefore how to improve the current situation. This is a key theme that we start to develop during the two-day leadership experiential at the beginning of LEAD™.
Steve promotes the notion of the leader as an apprentice – learning on the job. Now, that is quite a statement to make as most people in an organisation look to the leader for vision and direction. Imagine admitting you're serving your apprenticeship! The truth is that we can all learn; we can all improve. The issue is opening one's mind to self-improvement. Of course, our LEAD™ delegates have already vaulted that by coming on LEAD™. In effect they are 'agents for change'.
Another of our Masterclass speakers, former Olympic Track & Field Team GB Coach, Professor Frank Dick OBE, famously says,
"You don't have to be sick to get better"
Values of Leadership
In the world of business, when he was promoting his book, "Winning", our CEO, Stewart Barnes had the great fortune of meeting Jack Welch, the former CEO of General Electric. GE is one of the largest firms in the world, whose value increased by 4,000% under Jack's leadership. One of the first things he did was create a management team around him – a set of high performing followers who were leaders of their own divisions.
Fortune magazine named Jack 'The Greatest Business Leader of the 20th Century' and we believe Jack Welch is a leader that many of us can learn from. Let's consider a few points.
Change is an ever-present of organisational life, and leadership is about coping with change. Clearly, leadership and change are linked - change throws up the need for leaders and leaders create change.
Welch was a "master leader" – actively promoting change, communicating a vision, providing a clear sense of direction and energising and inspiring employees.
Welch encouraged one set of values across the organisation and promoted the 4 E's of leadership:
Very high energy
Ability to energise others around common goals
Edge to make tough yes-and-no decisions
Ability to consistently execute and deliver on promises
He emphasised one P - passion - which connects all four Es. You can see a clear set of values, easily understandable with a simple definition to avoid any doubt. Jack printed these out on a credit card which was given to all employees. Any leader knew what they had to do and team members knew what to expect from their leader.
Leaders are expected to initiate and guide change, but they are also expected to encourage and support bottom-up changes suggested by team members. Welch believed in setting only the broadest of objectives and emphasised seizing unforeseen opportunities as they arose – he encouraged entrepreneurial behaviour inside a massive corporate organisation and gave much scope for others to step forward.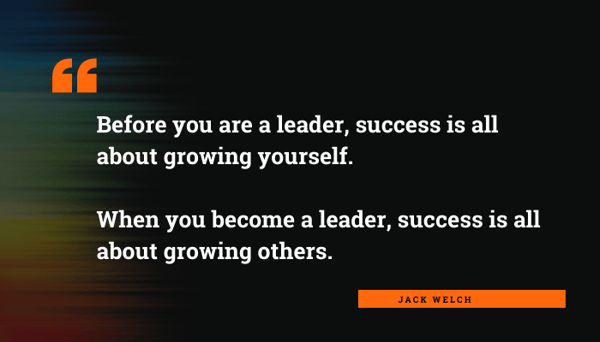 As you consider high performance / best-in-class / first-in-class / world-class and what that means to you, your business and the markets that you operate in, it is worth considering the lessons from Jack Welch on growing businesses and how that learning can be applied to you and your organisation.
If you are interested in finding out more about how we help our delegates to improve their leadership skills in order to develop themselves, their teams and their organisations, please get in touch with Jo Draper or Stewart Barnes.

Our next effective leadership program for senior leaders (LEAD™) starts in November, and our next management development program for future leaders (LEADlight) will start in January 2022.